Introduction
Wearing a personalized t-shirt is one surefire way to make a fashion statement. And they are becoming a mainstay in the market. For sure, gone are the days of wearing around a basic, lackluster t-shirt.
Even if you plan on selling these personalized shirts, there's a huge market out there you can exploit.
But, do you ever wonder how to go about t-shirt printing? Even if you're already in the business, are you sure you're using the correct type of transfer paper?
In this guide, we'll discuss the processes of t-shirt transfer printing and answer all of your questions.
The 3 Methods of Transfer Printing
If you're a lover of personalized t-shirts, there are lots of options in the market. But, you can go a step further by creating them yourself.
You should know that there are more ways than one to personalize your t-shirts. This information is much more necessary if you plan on doing a business out of selling your creations.
So, there are three primary ways of carrying out transfer printing. These methods are screen printing, heat transfer printing, and direct-to-film printing.
In the following sections, we'll examine all of these methods.
Screen Printing
The first method we're looking at is the traditional screen printing technique.
Also known as silk screen printing or serigraphy, it involves applying thick inks on top of a tightly-stretched mesh (called a screen, hence the name). This screen usually lies on top of the fabric, with designs marked out using stencils.
A screen printer passes a squeegee over a screen to pass ink all over the fabric. Only one color can be printed at a time. So, multi-colored design in screen printing involves using multiple screens.
A vital benefit of this procedure is the lasting, vivid quality it offers. Print designs are generally durable, resisting the effects of fading and cracking after repeated washing.
However, creating screens for any particular project can be very labor-intensive. Hence, you find most silkscreen designs in limited editions.
Still, screen printing is versatile in its application on materials other than fabric. Since it's a cost-effective process, professional printers often use it when fulfilling bulk orders.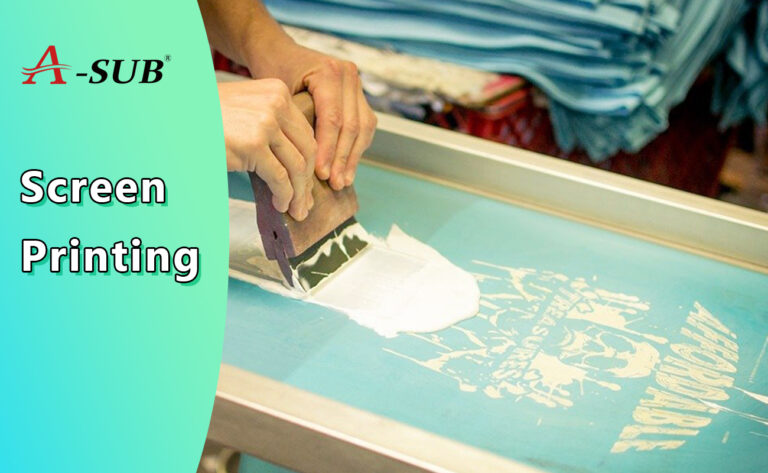 Heat Transfer Printing
Next, we have the innovative heat transfer printing method. It employs heat to transfer graphics from conception, like software design, to any fabric of your choice.
This method involves printing your designs first on printing papers. These papers have particular compositions that enable them to receive ink from printed graphics and transfer the images and text to the fabric.
There are three forms of heat transfer printing; sublimation printing, t-shirt or thermal transfer printing, and DTF printing.
A significant difference among these printing techniques is the different transfer papers/films they require. Let's analyze these papers/films one after the other.
Sublimation Transfer Paper
In sublimation printing, the dye ink transforms directly from its solid form to gas. This phenomenon occurs when you apply heat to a special sublimation transfer paper.
The ink bond with the fabric material while its particles are in the gaseous form. Then, the ink solidifies (through cooling) to form the respective designs.
Application on Different Materials
Due to the unique nature of the sublimation ink, sublimation printing produces brilliant results on polyester fabrics.
But, it does work well on pure cotton (fabrics with 100 percent cotton content). However, you can apply it on cotton materials with over 30 percent polyester fabric content.
Instructions
So, how do you use sublimation transfer paper?
You print your graphics on a sublimation transfer paper in a mirrored form. That is, inverting the images and texts to appear in reverse.
Then, place the paper on the material, and apply heat of about 230 °C with a thermal transfer press. At this temperature, the dyes readily sublimate and attach to the material fibers of the cloth.
This process should take 30 to 60 seconds for optimal results.
Advantages
Sublimation paper only has an ink absorption layer overlying the base paper. Thus, it is inexpensive to produce with this simple material composition.
After printing, the design on the fabric is unnoticeable to the touch. So, it's less likely to scratch or fade away.
In addition, sublimation transfer paper works brilliantly with white or light-colored fabrics. The paper is also user-friendly and comes with helpful instructions. So, it's easy to work with, whether you're a beginner or an expert.
Disadvantages
One drawback with sublimation paper is the special dye sublimation ink it requires. This unique ink costs more than regular printing ink.
The sublimation process only works when you print on polyester or polyester mix fabrics.
Furthermore, as sublimation is essentially a form of dying, the fabric must be white or any other light color. Otherwise, the ink will sublimate with a piece of black or dark-colored fabric and seep through the material without visible effect.
T-shirt Transfer Paper
Heat transfer printing via sublimation was limited in the type of fabrics you could customize. Enter stage, t-shirt transfer paper.
As the name implies, this special transfer paper is a fantastic choice for printing on t-shirts. Plus, you can use it on practically any fabric of your choice.
Still, you have to choose between two distinct t-shirt transfer paper types. Depending on the color of your t-shirt, there are dark and light transfer papers.
Dark T-shirt Transfer Paper
Per the name, this transfer paper is most effective for printing on black or dark fabrics.
What makes it unique, then?
Application on Different Materials
The graphics you print go on top of a white substrate layer on the paper. Therefore, it does not affect your transferred design irrespective of the fabric's color.
This effect makes it feasible for printing on a wide array of material colors, even a white cloth.
(It gives you another option for printing on whites besides the light transfer paper.)
Instructions
With a dark transfer paper, make a print-out of your design on the plain, unmarked side of the paper. Your design should it will look like the fabric. The graphics should not read in reverse but their legible form.
Afterward, peel off the transfer paper from the base layer and place it on the cloth's surface. Cover the design surface with the provided parchment paper before applying heat with a heat press or electric iron.
After properly heating the whole transfer paper area according to manufacturer guidelines, leave the parchment paper to cool for at least a minute. Then, gently peel it off, and the process is complete.
Advantages
Dark t-shirt transfer paper produces a finish with vivid and brilliant color schemes. As with t-shirt transfer paper, the design is more resistant to washing and fading.
As there's no limitation with fabrics, you can easily use it to customize a wide variety of shirts.
Disadvantages
Folds and creases in your fabric can limit the quality of the transfer process. For instance, areas under the sleeves and
Note also that using this transfer paper is expensive compared to other methods.
Light T-shirt Transfer Paper
This particular paper comes with a design that suits white or very light-colored fabric materials.
Application on Different Materials
How is it different from the dark transfer paper?
Light t-shirt transfer paper accepts images on a translucent substrate. When you apply it on a white or light-colored fabric, the paper background blends seamlessly into the fabric. As a result, it produces a less visible, or even see-through, background.
This attribute makes it suitable for printing on white or light-colored fabrics.
On darker fabrics, however, the background is noticeable and will dampen the effect of your graphics.
Instructions
When printing your design on a light t-shirt transfer paper, ensure you print it in a mirror-image format. That is, images and text should appear in reverse form.
On your fabric, you'll place the transfer paper facing down. By putting it this way, you'll be applying heat on the back portion of the paper.
Like the dark transfer paper, ensure to apply heat and pressure across the whole transfer paper. When the paper cools, remove the backing sheet and complete the process. You'll notice that your design now appears the right way around on the fabric surface.
Advantages
After printing, the paper produces graphics on the fabric with a softer feel. Another common feature of light transfer paper is it helps you create smooth designs.
Disadvantages
For light t-shirt transfer paper, a significant disadvantage is costly to purchase. In addition, it's only applicable with light-colored materials.
Direct-to-Film (DTF)
Primarily, DTF printing starts with reproducing graphics on a polyethylene terephthalate (PET) film instead of a transfer paper. Then, you transfer the design to your fabric using special melted powder and heat.
A selling point of the DTF method is that it has no limitations in terms of fabric type. It works well with cotton, silk, polyester, synthetic rayon fibers, and poly-blend materials. You can trust the DTF printing process to weave its magic with most fabrics.
Unlike screen printing, DTF printing does not use screen blocks to create designs. Also, you need to cut out excess edges of the design like in heat transfer paper.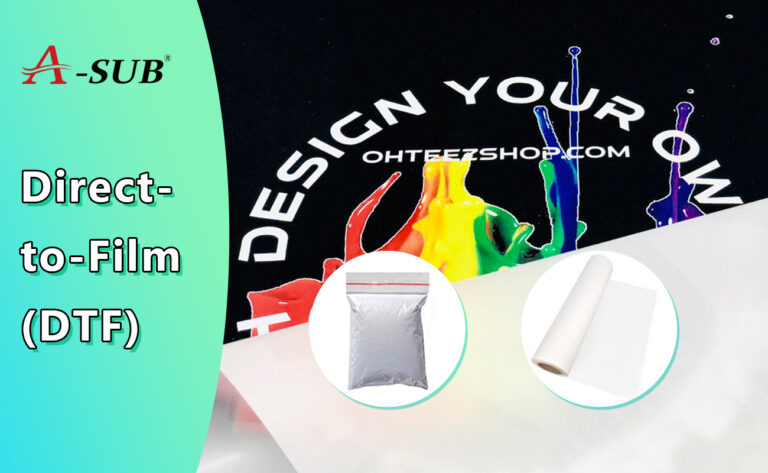 Conclusion
Transfer printing is a fun and profitable way of producing customized t-shirts. Depending on the technique, you could work with other materials too.
With this guide, we've looked at the various possible methods of t-shirt transfer printing.
Now, you understand how the sublimation and t-shirt transfer papers work in heat transfer printing. As a result, you can decide the technique to get the desired results.
So, whether the goal is restyling your plain t-shirts or selling out customized fabrics, you know enough to choose the method you need.