Introduction
Whether you desire to profit from your sublimation business or sublimation printing is just one of your many hobbies, you'll want to use actual sublimation paper.
Sublimation paper usually has unique coatings to aid the printing process, unlike regular paper. This attribute often produces excellent image quality and brilliant finishing.
However, knowing to use this unique type of paper in the innovative sublimation printing method is not enough. It would be best to use the appropriate weight of sublimation paper.
What do we mean by the weight of sublimation paper? And how can you identify the precise weight for any specific printing task?
We'll answer these questions in this guide. Then, you will learn how to identify the weight of any given sublimation paper product. And, we will direct you on learning to utilize the right paper according to your project's needs.
Defining Paper Weight in Sublimation Printing
When buying any sublimation paper product, it is common to see relevant information about the brand name, paper size, amount of sheets packed, and the weight of the paper.
Perhaps the most critical information for you should be the weight of the sublimation paper. This information is crucial in sublimation printing, which we'll discuss in detail as you read on.
Product pages usually denote the weight of a sublimation paper in units of g, or gram, or gsm. For instance, 120 g for the product shown below.
So, what does this product attribute mean?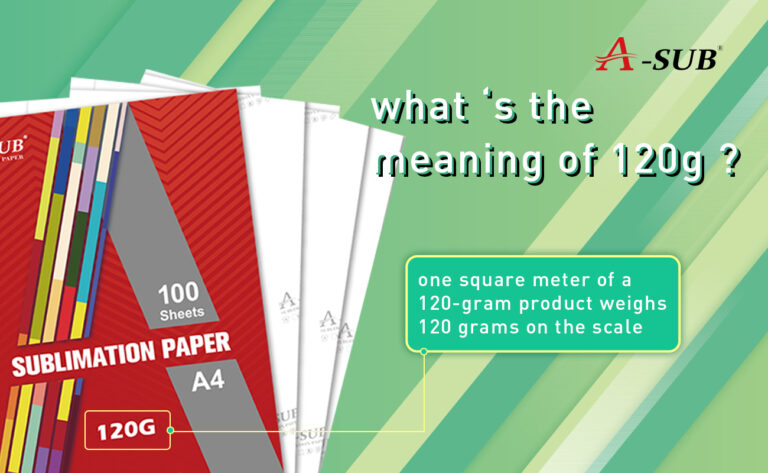 120 g, or gsm, or gram, indicates the product's weight per square meter of paper. This means the heaviness of the product before it is cut to size and packaged.
Examples of paper sizes are 8.5 by 11 inches or 11 by 19 inches, and manufacturers often pack papers in 50 or 110 sheets.
So, one square meter of a 120-gram product weighs 120 grams on the scale. This information is accurate for all other weights of sublimation paper.
Therefore, one square meter of 105 and 125 grams of sublimation paper weighs 105 and 125, respectively.
How Do You Choose the Right Paper Weight?
Now, you understand what the weight of a sublimation paper means.
It is necessary to comprehend what any sublimation paper's weight indicates is not the final step. This knowledge requires that you use the printing paper according to its respective use.
Popular Opinions and Assumptions
Most printers opine that heavier sublimation papers are appropriate for sublimation projects that involve high color saturation. However, these projects often require a large volume of ink that may bleed through lighter sublimation papers.
Conversely, experts suggest you use lightweight printing papers in lighter sublimation projects. These may include more straightforward tasks of transferring minor designs to smaller items.
Asides from these opinions, you'll find lots of information about the proper uses of sublimation paper at different weights.
So, how do we use sublimation paper in different weights appropriately?
Application of Lightweight Sublimation Paper
Firstly, the lighter sublimation papers refer to products that weigh between 105 grams to 113 grams.
Primarily, these papers find use in printing on fabrics with at least 30 percent of polyester content. These items include clothing items, curtains, and other textile products.
The possible print products are not limited to material items. For example, a printer can use light sublimation papers to design items such as ceramic mugs, key chains, and mouse pads.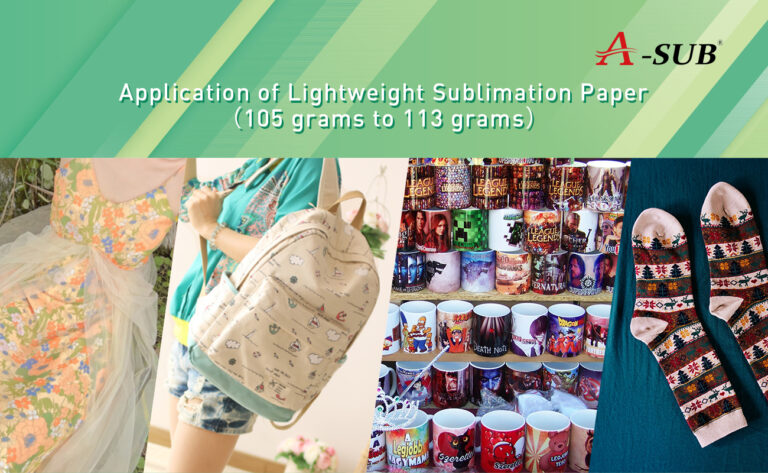 When Do You Use Heavier Sublimation Paper?
Sublimation papers weighing between 120 to 125 grams make up the heavier weight group of papers.
Generally, they are applied in high-definition sublimation projects. These involve the creation of aluminum and MDF blanks.
In all, we can apply sublimation papers for diverse purposes. Different weights of paper may have advantages in specific situations, like heavier papers in high color printing projects.
Still, printers can interchange their purposes for various tasks. For instance, if you prioritize color and clarity in your final prints, lighter sublimation papers can serve your needs adequately.
Yet, a user cannot verify this benefit for all sublimation paper brands. That's why we bring you the best sublimation brand; A-SUB.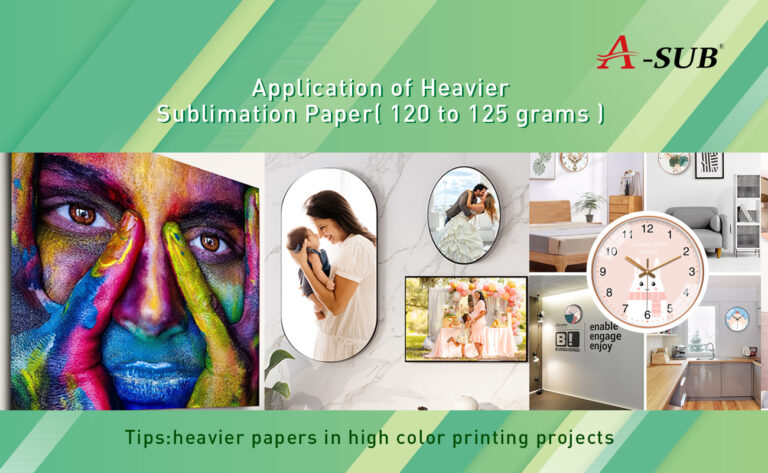 A-SUB Sublimation Paper: The Standard Bearer
Light and heavy sublimation paper products have their applications in various tasks. Another
So, what makes A-SUB sublimation paper different from the rest of the market?
Microporous Multilayer Technology
Ink transforms from the solid state to a gaseous form in sublimation printing. Unlike traditional heat transfer printing that creates an additional layer, this change allows the printed material to absorb the ink seamlessly.
This form of design transfer is why the sublimation process involves the use of coated inkjet papers. These sublimation papers have a receptor layer to support receiving the inks and transfer them quickly.
Though they closely resemble regular print papers, coated papers provide a higher range of colors (especially for pigment-based inks), better image quality, excellent brightness, and ink stability, reducing ink bleeding.
There are two prominent types of sublimation paper in the market. We classify papers by the inherent coating technology that enables them to absorb the printing ink.
Swellable Paper
This sublimation paper is made by coating it with organic polymers, like gelatin. This coating swells up to surround the sublimation ink once the ink strikes the paper.
After the coating swells, only a thin layer of ink is directly exposed to air, protecting the rest of the ink. As a result, swellable coatings tend to produce either a glossy or lustrous finish.
Some positives to the swellable paper include an excellent image finish and increased print permanence as the coating isolates the ink drops.
However, swellable paper is more sensitive to contact with water and highly humid environments. Therefore, the produced print requires a much longer drying period, too.
This posed a problem as inkjet printers tended to print faster than the sublimation ink could dry. Consequently, another form of paper has gained prominence.
Microporous Paper
As a solution to the issue resulting from swellable papers, microporous coatings were developed to prevent the ink from spreading.
Microporous coatings are alumina or silica in tiny, inorganic particles that create voids or cavities in the coating. The sublimation ink is then absorbed into these cavities by capillary action.
As a result, microporous papers help produce rapidly drying prints that you can handle immediately. In addition, microporous papers have high resistance to moisture and humid conditions.
However, the open areas of the microporous coatings still expose the sublimation ink to contact with air. So, the prints are vulnerable to contact with contaminants in the atmosphere.
Microporous Multilayer Paper
Swellable and microporous papers yield designs with brilliant image quality and a vibrant finish. Still, each come with their obvious disadvantages in producing beautiful prints.
The heavier A-SUB sublimation papers are the most vibrant and most vividly colored sublimation paper around the globe.
The lighter A-SUB papers are not left out. These sublimation papers can withstand high-volume printing. And unlike sublimation paper products from other brands, they do not experience ink bleeding through the paper.
The key benefits of the A-SUB sublimation paper are:
Fast-drying, to allow immediate use of prints,
Multiple layers of the paper accommodate a wide range of sublimation ink,
Anti-transparent printing,
The excellent flatness of the design on the finished print,
The transferred designs are resistant to harsh weather conditions and prolonged washing.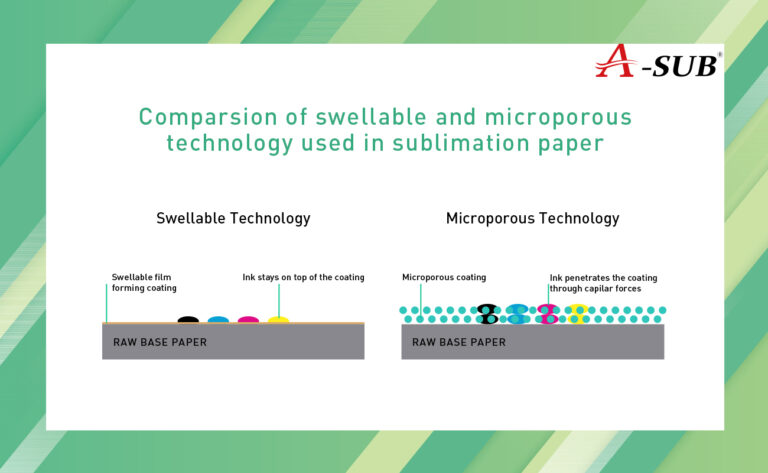 Quality Product, Quality Brand
A-SUB sublimation paper products are of high quality. Not only in their benefits in application, but in the recognition by users and experts across the internet.
Top Sublimation Brand on Google
A-SUB is widely recognized as having the best products in the sublimation paper industry. A quick search on Google for the 'best sublimation paper' will reveal this fact.
A host of expert reviews and recommendations from industry professionals list the A-SUB brand at the top of their products lists.
As a consequence of widespread recognition in the online space, A-SUB converts many prospective buyers into brand customers. How do we know this?
Our Brand is #1 Best Seller on Amazon
Amazon is the most prominent digital marketplace in the world. This fact is highlighted by the number of users (buyers and sellers) that make the digital platform for conducting business operations.
On Amazon, A-SUB sublimation paper products are among the best-selling items in the dye sublimation paper category. This 'Best Seller' tag denotes that A-SUB paper products have a high amount of sales among sublimation paper products
Consequently, A-SUB has the best sales among sublimation paper producers that cater to Amazon's far-reaching global audience.
Thus, you can see the remarkable exploits of A-SUB in the worldwide sublimation industry.
FAQs
Can A-SUB produce customized weights of sublimation paper?
The available sublimation paper products are 105 grams, 113 grams, 120 grams, and 125 grams in weight.
However, we can make our products to order according to customer requests. Some possible custom weights of sublimation paper that we can produce are 123 grams and 130 grams.
Can you sublimate on 100% cotton?
No. Sublimation printing works well on fabrics with a high polyester count.
Using A-SUB sublimation paper, though, you can print on materials with as low as 30 percent polyester.
Why does my sublimation print fade after washing?
The principle of sublimation paper denotes that the sublimation ink melts further at high temperatures.
So, if you print with a low-quality transfer paper, the ink will clean after washing and fade out gradually.
Conclusion
Using good quality sublimation paper leads to the creation of excellent print products. Not just good paper, but the correct weight of paper according to the needs of your projects.
And where can you get top-of-the-line sublimation paper? From the finest sublimation brand; A-SUB.
Our sublimation paper uses innovative technology that offers multiple benefits and stands out in the market. And this is true when you use either lightweight or heavier paper products.
Expert reviews and recommendations point to A-SUB as the go-to brand for first-rate, reliable sublimation paper.
So, what wait longer? Use quality A-SUB sublimation paper to produce brilliant prints today.