Introduction
Creating and selling customizable T-shirts is a profitable business, especially in the spring and summer.
A primary ingredient in making these personalized T-shirts are printing papers.
These unique papers enable the transfer of custom designs to fabrics that people can wear in public to show off various brands. You'll find these printing papers in two significant forms: sublimation paper and T-shirt transfer paper.
However, choosing the specific printing paper to use or distribute can be puzzling. Markedly, the cost of the different papers is a crucial factor when differentiating one paper from the other.
Still, there are other notable and unique attributes that these papers possess.
But, it's not impossible. How? Let's show you.
Differences Between Sublimation Paper and T-shirt Transfer Paper
Personalized T-shirts are fast becoming a mainstay in the market. Asides from the comfort they provide in warm weather months, they allow customers to wear brilliant and innovative designs.
Typically, personalized T-shirts are created by two main printing procedures: sublimation printing and T-shirt transfer printing. One factor that affects the procedure you use, and its success, is the type of printing paper in use.
Transfer printing papers are an essential component in creating top-quality custom T-shirts. As a result, the printing paper industry has become valuable, like personalized T-shirts.
However, you must understand a little of the science behind these unique printing papers. More importantly, you need to be able to tell them apart and their particular uses.
So, let's look into these papers.
What is Sublimation Paper?
Sublimation paper is a vital component of sublimation printing. Like heat transfer printing, sublimation employs heat in transferring designs to garments.
However, let's look closely into the science.
A particular type of ink, the dye sublimation ink, is used exclusively in sublimation printing. So, when you print out a design onto sublimation paper, you use sublimation ink.
Unlike ordinary printing ink, this ink transforms from its solid form to gas when you apply heat to the transfer paper. In the gaseous state, the ink particles then adhere to the fabric of the T-shirt.
When the ink cools, the particles solidify and become a permanent part of the fabric.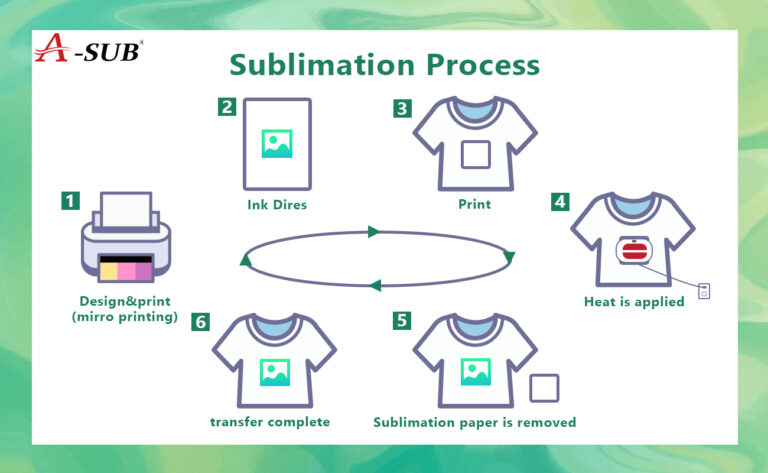 What is T-shirt Transfer Paper?
T-shirt transfer paper is also known as heat transfer paper.
It is a unique form of printing paper that you can use to transfer designs to T-shirts. This process requires heat application to the paper; hence we call it heat transfer paper.
How does it work?
Firstly, you create a design or find a picture of your choice. Then, you use an inkjet or laser printer to print it onto your T-shirt transfer paper sheet.
Then, you place the printed sheet on your T-shirt and apply heat using a heat press or your home iron. For best results, it's always better to use a heat press.
After applying heat and pressure thoroughly to the transfer paper, carefully peel it away from the fabric, and Voila! You'll find the design or picture looking nice on your T-shirt.
Being aware of the disparities between sublimation and T-shirt transfer papers can be superb for your distribution business. With this knowledge, you'll make faster market decisions and gain optimum returns on costs.
Know the best part? The differences between the printing papers are easy to identify.
So, how can you tell sublimation paper and T-shirt transfer paper apart?
Application on Different Materials
Sublimation Paper
A significant attribute of purified or 100 percent cotton fabrics is that the material cannot hold or lock ink. Therefore, when sublimation ink vaporizes and solidifies, the ink particles will not stick to the fabric material.
So, the process of sublimation printing can only work with polyester fabric. At best, you can work with poly-cotton fabric blends that contain at least 30 percent of cotton material.
Sublimation paper has only one material layer to absorb ink, unlike regular heat transfer paper. Therefore, this attribute implies two ways.
Firstly, without a glue layer to attach designs onto fabric, it relies solely on the mechanism of the sublimation ink to transfer designs.
And the fabric has to be white or light-colored for any designs to show. The printing ink will seep through the material on dark fabrics without showing any color. Thus, it's impractical to utilize sublimation paper to print on dark-colored fabrics.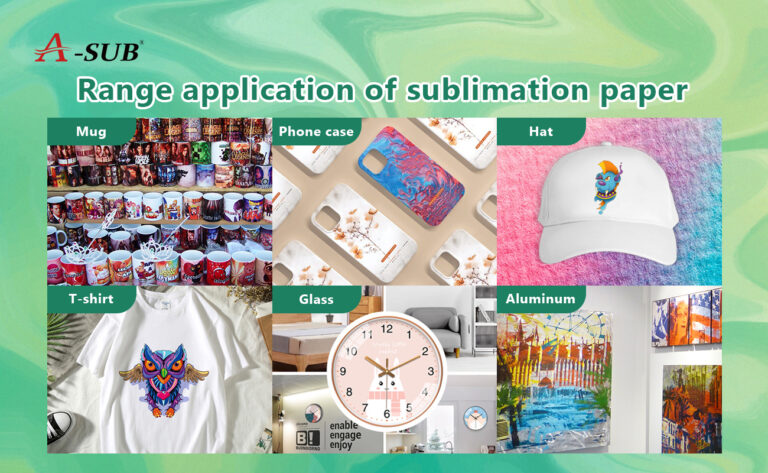 T-shirt Transfer Paper
T-shirt transfer paper has a material composition of both an ink absorption layer and a glue layer. As a result, it is helpful in printing on cotton, polyester, and poly-blend fabrics.
The glue layer of an ink transfer paper ensures that ink and fabric do not come into contact. So, the design is transferred as an extra layer on top of the T-shirt. A key benefit is that your T-shirt designs do not quickly lose color due to washing.
T-shirt transfer paper also comes in light transfer paper and dark transfer paper.
In heat transfer printing, color hardly shows on dark-colored clothes. So, applying light transfer paper to light-colored T-shirts and dark transfer paper to dark-colored T-shirts is standard procedure.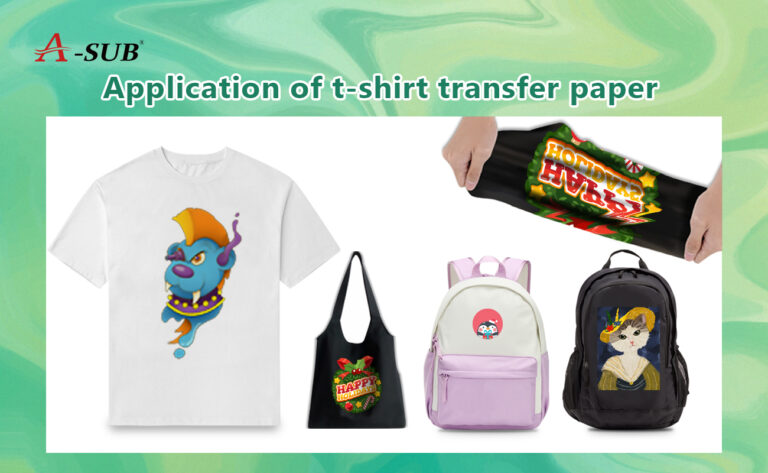 Ink Usage
Sublimation Paper
The sublimation process works when you print designs on sublimation paper with only sublimation ink. This process is the rule because dye sublimation ink readily vaporizes and sticks to the T-shirt fabric at high temperatures.
Regular pigment ink would not work in sublimation printing as it is chemically dissimilar to sublimation ink.
T-shirt Transfer Paper
The T-shirt transfer paper works effectively with any ink. So, you can utilize both the dye sublimation ink and standard pigment ink in heat transfer printing.
How is this possible?
Recall that the T-shirt transfer has an additional glue layer. Thus, your ink will not matter if you adequately press your designs to the T-shirt fabric.
Effects on Printed Products
Sublimation Paper
The pigment ink heats up when using sublimation paper, and the gas seeps into the fabric material. When it cools, the design forms on the T-shirt as a part of the garment.
So, when you feel over the printed area with your hand or an object, you cannot physically touch the design.
T-shirt Transfer Paper
Meanwhile, heat transfer works by adding the design layer on top of the garment. So, unlike a sublimation print product, you can feel this extra layer on the T-shirt.
A significant disadvantage is that the heat transfer designs are less durable than sublimation designs.
Cost of Manufacturing
Sublimation Paper
Sublimation paper only has an ink absorption layer and works with white or light-colored fabrics. With its simple material composition and relatively menial application, sublimation paper is inexpensive to produce.
Sublimation ink is more expensive than regular printing ink. Yet, this high cost is because the ink enables a large portion of the sublimation printing process.
T-shirt Transfer Paper
On the other hand, the cost of manufacturing T-shirt transfer paper is relatively high.
Combining the ink absorption and glue layers makes using the T-shirt transfer paper a complex procedure. In addition, it comes in a variety of light and dark transfer papers for printing on light and dark fabrics, respectively.
Printing Equipment
Sublimation Paper
You can only use sublimation paper with specialized inkjet printers with dye-sublimation ink.
T-shirt Transfer Paper
T-shirt transfer papers work well with either an inkjet or a laser printer.
Weeding
In transfer printing, weeding refers to removing excess background or edges of the design while transferring it to the garment.
Sublimation Paper
Only the pigment ink migrates from the sublimation paper to the T-shirt fabric in sublimation printing.
So, the sublimation paper carries out self-weeding. This process ensures you don't need to cut out or peel off excess/unwanted parts of the design area.
T-shirt Transfer Paper
The printer prints out the design and background when you use a T-shirt transfer paper with inkjet printers.
Since the printing paper sticks onto the fabric, the process transfers your design with all the excess edges.
After printing, you have to remove these unwanted parts from the T-shirt surface.
A-SUB, Your Excellent Partner
You know enough to tell how a T-shirt transfer paper differs from a sublimation paper. Also, you are aware that these printing papers find application in specific projects.
That's not all, though.
To build a profitable distribution business, you must be dealing in high-quality printing papers. By offering excellence, you can provide satisfaction and earn the trust of your customers.
So, what's the best next step? First, you need to partner with A-SUB, the number one brand in the printing paper industry.
What do we have to offer at A-SUB?
Product Superiority
Since its inception, the A-SUB brand has dedicated itself to fulfilling the printing paper needs of the market. That's over 20 years of experience in producing quality printing paper.
After more than two decades in professional paper manufacturing, A-SUB produces the finest sublimation paper and T-shirt transfer paper products.
Along with proven experience in the printing paper industry, A-SUB is capable of providing top-notch support in printing technology.
You can check out our website for various how-to videos. In addition, you'll acquire valuable printing skills, from carrying out sublimation printing on a mug to learning to use light T-shirt transfer paper. There are introductory videos for beginners, too.
Besides these helpful videos, you can access a comprehensive guide to sublimation transfer interaction. Using our 5-step process, you'll get optimal results when printing on T-shirts and other materials like ceramics, wood, and aluminum/metal blanks.
Over the years, we have developed a manufacturing line that meets professional and quality standards. Our factory is fully equipped with 15 coating lines, with durable designs that produce brilliant printing paper using full imported base paper.
Pacesetting Brand
At A-SUB, our products are nothing short of quality. Thus, A-SUB is the top printing paper on Google, the world's leading digital source of information.
The A-SUB brand is a significant feature in top search engine results page (SERP) rankings. Google recommends A-SUB products when you search for sublimation paper or T-shirt transfer paper to use.
Take our word for it. First, you log on to Google and search for 'the best sublimation paper' or 'transfer paper for a T-shirt.' Then, the top results you'll see showcase our sublimation paper and T-shirt transfer paper products.
Industry professionals also produce reviews highlighting the best products in any given category. For example, as shown below, A-SUB sublimation paper is a top choice in the printing paper industry.
Product reviews from BestViewsReviews (left) and Podi (right) recommend A-SUB products
Asides from the recommendations on Google and top votes in product reviews, the A-SUB brand is a bestseller on the Amazon marketplace.
Currently, Amazon.com is the leading platform for buyers and sellers worldwide. Thus, our 'Best Seller' tag on Amazon indicates that we have the highest sales in the dye sublimation paper and heat transfer paper categories.
Still, it's not only Amazon that recognizes our top-notch brand by high achievement in sales.
Customer reviews for our products exceed over 30,000 submissions. We have a rating of 4.8 out of 5 for our dye sublimation paper and 4.3 over 5 for our T-shirt transfer paper.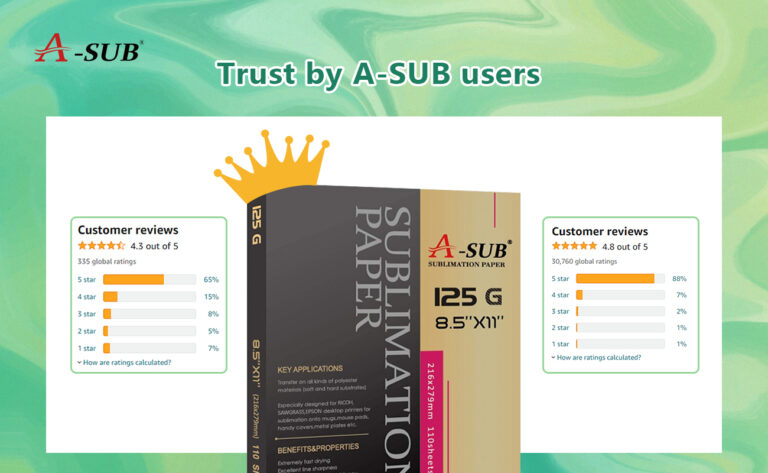 Quality Service Delivery
At A-SUB, we not only produce the finest transfer printing papers.
We offer a dedicated team of market professionals that is readily available to provide customer support. Besides dealing in high-quality papers, we'll assist you in meeting the industry standards relative to your local market.
The A-SUB factory is fully fitted with high-speed production lines. Our fast coating lines can churn out 500 meters of paper per minute.
We use fully imported base paper with guaranteed stable quality. Coupled with our rapid manufacturing process, our factory offers steady production at a fast rate.
Typically, we ship out your A-SUB orders within 24 hours of purchase, and we deliver within a maximum period of 5 working days.
A-SUB uses top package carriers such as USPS, FedEx, and UPS. All these details ensure we help your business by making our shipment and delivery in record time.
Conclusion
Sublimation papers and T-shirt transfer papers are the life force of the personalized T-shirt industry. Essentially, they enable the production of brilliant fabrics that feature innovative, custom designs.
However, printers selectively use each paper in the printing process. As a result, they also have different manufacturing costs and produce distinct effects on the printed fabric.
Still, A-SUB offers quality paper, whether you choose sublimation paper or T-shirt transfer paper. With A-SUB, every distributor has a chance to sell first-rate printing paper products.
Choose A-SUB, and become a partner with excellence.