Have you ever heard of the sublimation paper before? Chances are you have, but never overthought of it. Well, in this time and age, we believe you should.
In recent times, the printing world has widely accepted the art of sublimation (or dye-sublimation) printing. Although it only works with polyester material, it still finds application for designing a wide range of items.
You're probably curious and wondering why sublimation paper is causing all this buzz. You'll find out soon enough as you continue reading.
And if you already have your own sublimation business, now is the right time to scale up by partnering with a leading brand in the market.
At A-SUB, our existing distributors already enjoy our uniqueness in the marketplace. Besides, our quality products and low, competitive prices are other existing bonuses.
But, let's show you if you don't know what's going on in the sublimation paper industry or why you should even do business with us.
Rise to Prominence of the Sublimation Paper
The recent rise in popularity of the sublimation printing method has quickly taken over the printing world.
Sublimation printing works similarly to regular heat transfer printing. However, a significant difference is; in sublimation printing, the design attaches itself to the printed material (like a t-shirt) instead of creating an additional layer on top of the cloth.
Businesses and brands seeking innovative and creative designs in advertising now use sublimation printing. Essential factors driving up demand are greater design flexibility and the move towards automation in the printing industry.
A key benefit of sublimation printing is the high-quality images that the printing job can produce on fabric and rigid materials and for printing on banners and ceramics.
Essentially, you can produce more designs in less time with sublimation printing. There's also little to no tendency for designs to crack, wear off, or fade after washing or prolonged use.
As with sublimation printing, the use of a unique form of printing paper, the sublimation paper, has been brought to the fore.
Thermal Sublimation Paper: the New Face of Printing
The sublimation paper is a crucial ingredient in sublimation printing.
Printing on high-quality sublimation paper helps create high-quality, consistent images. Also, it ensures the printing job achieves the desired result.
However, most printers often overlook the sublimation paper when considering sublimation printing works. It's usually a last-minute purchase, unlike the sublimation ink, paper and substrate.
But a brief look at data from Google Trends indicates that, in recent times, more users are searching for the term "thermal sublimation paper" on the web.
This fact is evidenced by a steady rise in the last five years, almost four times as much as previous years combined.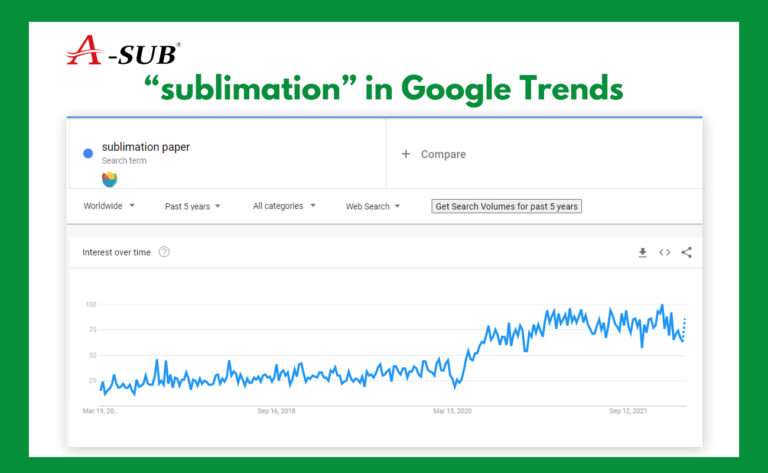 Meaning that the sublimation paper is gaining importance as it should be. Because, even more than the ink, inkjet printer, and substrate, it's more important to the quality of the work.
With the right quality sublimation paper, you get to see designs that transfer flawlessly to the print material.
While a poor or low-quality paper will cause issues while undertaking any printing work, one of such problems is repeating the job multiple times to acquire a manageable result.
The "Sublimation Paper" Keyword Boom
If you type the keyword "sublimation paper" into Google, chances are you'll get instant access to a whole host of resources in less than a second. And that's just from looking at the first page of results.
It's also likely that you're one of the hundreds of people doing so at the same time.
According to Google Keywords Planner, the "sublimation paper" keyword search volume is at an all-time high, skyrocketing from an average of 2,000 searches in a month in the year 2018 to over 10,000 a month in 2022.
This statistic from the internet points to a five-time increase in just the last five years.
Another thing this indicates is the increase in "sublimation paper" content now available on the web. This content refers to pictures, texts, and videos on social media platforms, blogs, and websites, providing information about sublimation papers.
More creators, influencers, and educators now generate helpful information about the sublimation paper industry.
Increasing online searches for "sublimation paper" also signifies the shift in the sublimation paper market. Alongside local orders, sublimation paper and printing are gaining widespread acceptance in the printing business.
By now, you probably see the profits that becoming a merchant in the sublimation paper business can bring, which is why, when you start searching for a brand to do business with, look no further than A-SUB.
A-SUB, the Leading Brand for Merchants
Market demand for sublimation paper products is still on the rise. As such, this boom continually attracts a lot of existing brands and new ones, seeking to exploit the market.
Now, it is one thing to be interested in the sublimation paper market. That's one reason why the demand for sublimation paper is increasing, leading to an ever-widening gap between manufacturers and consumers.
As a result, the market has become lucrative for business operations. In addition, a focus on distribution services helps by aiding the movement of goods from producer to end-user.
Distribution is a critical element in the supply chain of any industry, helping to cut costs and reduce delivery times. Meaning it can only benefit us at A-SUB to have salespeople on the ground in your country to facilitate business operations.
And as you seek to bridge this gap as a distribution merchant, it is only ideal to partner with a top brand already existing in the market. So there are a whole lot of benefits to that approach.
When you decide to, you have the chance to partner with the best there is, A-SUB, right away. Not just the best in China or on the continent, but the best in the sublimation industry.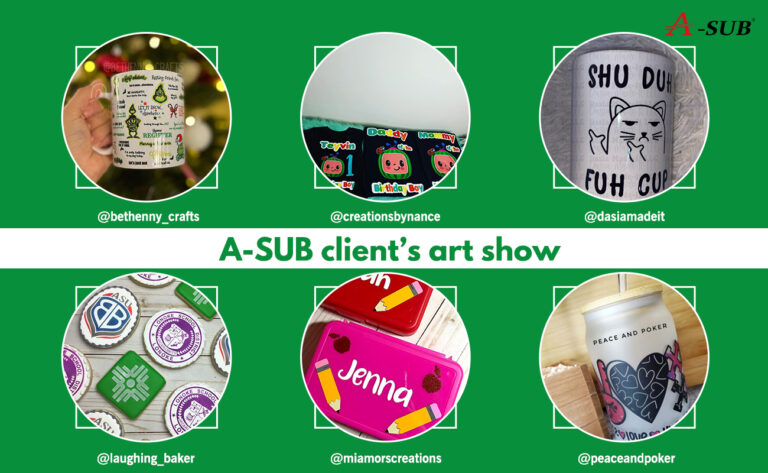 A-SUB sublimation paper is a high-quality manufactured paper that aids in delivering top-notch products. Our papers can work with any inkjet with sublimation ink with a stress-free design.
In addition, A-SUB is rated overall best amongst five of the most well-known industry leaders. And our professionalism, reliable partners, and excellent relationship with customers belies A-SUB as a standout sublimation brand.
Now, what exactly makes our A-SUB brand the most attractive and beneficial option for distributors?
Promotion Costs are Almost Non-existent
Firstly, our distributors spend too little or no amount of promotion costs of marketing. So instead, our products at A-SUB will ensure you minimize costs and risks as much as possible.
It can be daunting for businesses, especially micro, small and medium enterprises, while estimating the amount of promotion you need to create awareness about any product.
But, with A-SUB, you'll be sure to spend your time calculating your success in the market.
So, how do we guarantee that you save costs while doing business with A-SUB?
Social Media Already has the Juice
Nowadays, the top social media platforms such as Facebook, Instagram, YouTube, and Tiktok hold a lot of information about basically any type of product.
The sublimation paper industry is not left out, which means there is already plenty of online content about all our products at A-SUB.
With a quick search on social media, you get to access thousands of texts, videos, and pictures about A-SUB products. These videos and pictures have a lot of information about a wide range of topics, whether teaching you how to use sublimation paper and ink or highly stunning finished printing paper.
Do you know the best part? All these are available for free on the internet. So, dealing with our products at A-SUB has never been better for merchants. How so?
Let's take, for instance, the cost of making a video about any A-SUB products to be $1. Therefore, making the already existing videos is over $100,000.
That's is already a lot of money, without estimating the costs of other business operations yet.
However, you do not need to spend that amount of money on promotions or adverts to market our products since a lot of content is already available online.
With Help from the Experts, Too
Still, the good news does not end there.
A brief search for "best sublimation paper" or "top sublimation paper" on Google, the world's leading search engine, shows A-SUB sublimation papers at the top of multiple product listings.
Product listings compile and compare the best products for consumers, whether for everyday use or performing do-it-yourself (DIY) tasks.
Top product experts and industry professionals are always active in creating these lists. This fact means you get the best reviews and recommendations about any particular product or industry.
Our A-SUB brand is a significant feature in top SERP (search engine results page) rankings when users search for the best sublimation paper to use.
All this information alludes to the fact that top blog and website reviews indicate A-SUB is the leading brand to select when using sublimation paper.
So, what does it mean for you as a prospective distributor? There's already a host of verified sources of information in the market about our products, leaving you to focus on making profits.
Top Sales in the U.S. Sublimation Paper Industry
In addition to spending little to no money promoting our products to customers, the massive sales our distributors generate is an incentive to do more business with us.
We are not just talking about high numbers, but as the number one sublimation paper brand in the United States of America.
How do we know?
A-SUB is a Best Seller on Third Marketing Platforms!!
For one, A-SUB has the best sales and brand among sublimation paper manufacturers and in the sublimation industry.
That's why Amazon lists our sublimation paper products as one of the 'Best Seller' items in the sublimation paper category.
According to Synergy Research Group, Amazon.com is the largest online marketplace globally. Therefore, any business will benefit from the already existing and equally massive target market on Amazon.
As a 'Best Seller' on Amazon, our A-SUB brand has the highest sublimation paper sales on the digital marketplace. So for you as a distributor, you can begin to understand the amount of success that awaits you in profits.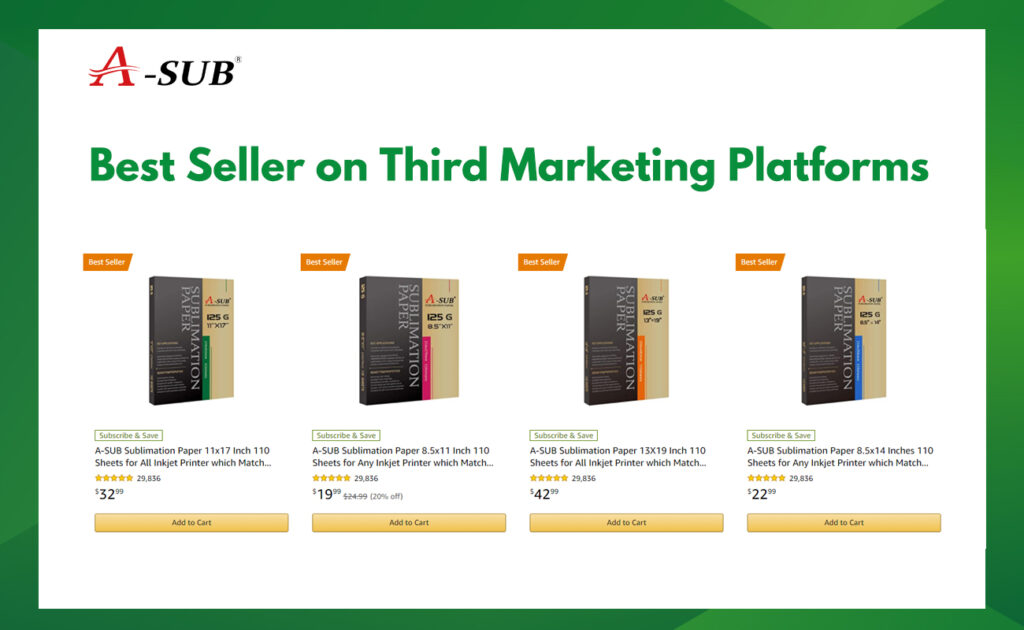 Our High Quality Meets Customer Approval
At A-SUB, we produce sublimation paper products of high quality to keep in line with our brand's standards.
Our high amount of sales and the reviews of our online customers further highlight our continuous efforts in churning out high-quality products.
Our A-SUB brand has received more than 28,245 positive reviews garnering praise for authenticity and quality on Amazon. A cumulative star rating of 4.8 out of 5 also backs up our claim of overall customer satisfaction.
Therefore, you benefit from our massive consumer base and become associated with the high-quality A-SUB brand.
FAQs
Does A-SUB already have a distributor in my country?
The A-SUB brand has distributors available in the United States of America and Australia.
However, we are willing to partner with merchants ready to offer distribution services in any other country worldwide.
Can A-SUB Sublimation Paper factory customize their products?
Yes, upon special request.
The available sizes from the factory are, according to weight (in grams): 105g, 120g, and 125g; and according to sheet dimension (in inches): 8.5″ * 11″, 8.5″ * 14″, 11″ * 17″, 13″ * 19″, A3, and A4.
Still, if you need custom sheets, our factory can make A-SUB sublimation paper according to your specifications in any sheet dimension and weight.
What is A-SUB's minimum order quantity?
The minimum order quantity for all A-SUB sublimation paper products is one pack.
How many sheets does one pack contain?
A standard pack contains a maximum of either 50 or 110 sheets of sublimation paper.
Meanwhile, we can produce sheets in other quantities. And, we can customize the number of sheets in a pack per customer request.
Does the A-SUB brand have any other products?
Yes, the A-SUB brand manufactures other items apart from the well-known sublimation paper. These products are the A-SUB sublimation ink, A-SUB t-shirt transfer paper (for light and dark fabrics), A-SUB waterslide decals paper (clear, white, and golden slivery options), and custom A-SUB labels.
Conclusion
The sublimation paper industry continues to gain ground in the U.S. and worldwide, especially in recent years.
This trend means, as a distributor, there's hasn't been a better time to involve yourself in the sublimation paper market.
The leading brand in the sublimation paper industry, and sublimation as a whole, is A-SUB. You will cut costs and sales risks with our brand while gaining many business profits.
So, contact us today, and let's start doing business together.