Introduction
Sublimation paper is an essential ingredient in the innovative sublimation printing process. Therefore, when choosing a high-quality product to use, you'll find none better than an A-SUB sublimation paper.
For 20 years, A-SUB has been committed to developing top-of-the-line paper products. The goal is to create a satisfying experience for end-users. The A-SUB brand has developed its own excellent supply system even for distributors.
Since the A-SUB sublimation paper hit the market in 2017, it has come to represent the leading A-SUB paper brand. As a market leader, A-SUB has gained recognition for its high sales on Amazon and is highly featured on Google.
With these facts, you may be wondering why A-SUB sublimation paper is widely popular in the market. Well, let's look at all the facts together.
About the A-SUB Sublimation Paper
You're probably not a stranger to sublimation paper and its innovative application in transfer printing.
However, the A-SUB sublimation paper is not like any sublimation paper. Therefore, we'll examine how the A-SUB paper differs from other papers.
Paper Structure
Firstly, let's analyze the structure of the sublimation paper.
Five layers contribute to the unique composition of the A-SUB sublimation paper. These paper layers and their attributes are viewed below.
Surface Layer
The surface layer is the topmost part of the sublimation paper. Thus, it is crucial to protect the paper from damage and ensure compatibility with the printer.
This layer is also essential in determining the vital properties of the sublimation paper. These properties vary from the printability of the design, waterproofing, and glossy look of the print output.
Ink Absorption Layer
The ink absorption layer is the paper layer that holds the coating on top of the base paper layer. Therefore, it is also referred to as the coating layer.
This layer is a vital component in sublimation printing. It is responsible for holding the dye sublimation ink and enables the formation of distinct colors in ink.
Water Absorption Layer
Like the ink absorption layer, this layer is also responsible for holding fluids. In this case, it retains the excess moisture of the ink.
As a result, it prevents white specks, dots, or mottles from appearing on the printed surface.
Base Paper Layer
Arguably the backbone of the sublimation paper, this layer is critical to the quality of the sublimation paper.
The high quality of the base paper allows the surface, ink absorption, and water absorption layers to function effectively in sublimation printing.
Anti-curl Backing
A-SUB sublimation paper also contains an anti-curl backing. This layer is a form of coating applied to the base paper layer.
Essentially, the anti-curl backing prevents the paper from curling (warping at the edges) after applying dye sublimation ink.
Curling the paper is usually undesirable because it hinders the appropriate transfer of designs during printing. Also, curling paper can jam the printer, leading to a tedious printing process.
Base Paper Layer
A fundamental aspect of the sublimation paper is the base layer. This layer supports the other layers of the paper and determines how well a print output turns out.
The base paper layer in A-SUB sublimation paper notably comes from Europe. As a result, we ensure the quality of the printing paper by utilizing excellent base paper.
Furthermore, the base paper we use is 'FSC Certified.' The FSC (Forest Stewardship Council) certification indicates that the base paper is a product of wood harvested from responsibly managed forests.
This 'gold standard' certification affirms that the paper comes with social, environmental, and economic benefits.
Coating Layer
The unique coating layer in the A-SUB sublimation paper is a standout attribute compared to other products in the market.
The paper technology used in the market is of two types; swellable and microporous paper technology.
The swellable paper uses organic polymer coating such as gelatin. This coating swells up to surround the sublimation ink when it strikes the paper. A significant disadvantage was the longer drying times of the ink.
On the other hand, microporous paper technology uses tiny, inorganic particles that allow the absorption of ink. Yet, there's the issue of ink exposure to contaminants in the air.
A-SUB, however, utilizes microporous multi-layer technology in producing sublimation paper.
Multiple benefits of the innovative coating layer technology in transfer printing include;
Drying time of ink takes place within 60 seconds after printing,
The resolution rate is excellent, and it resolves any issues of mottles or specks during printing,
Smoothness is guaranteed as the paper does not curl easily or jam your printer while in use,
The transfer rate of the design from paper to fabric is 98 percent, which is much more than the required rate of 95 percent.
Comparing A-SUB Paper and Similar Products
You now understand the composition of A-SUB sublimation paper and its unique features, making it an excellent product for sublimation printing.
To further prove its brilliance, let's review the performance of A-SUB paper against similar sublimation paper products.
Transfer Rate
Transfer rate refers to the proportion of the design that successfully transfers to the print material through the sublimation ink.
FOLE sublimation paper transfers more than 90 percent of the ink during sublimation printing.
In contrast, A-SUB guarantees at least a 98 percent transfer rate, producing brilliant color output on designs.
Drying Time
Drying time indicates the period required for the ink to dry off after inkjet printing. Faster drying times allow you to carry out continuous printing with efficiency and reduce problems with print quality.
When using A-SUB sublimation paper, the ink dries in less than 60 seconds after printing.
A similar product, such as Texprint sublimation paper, takes more time to allow sublimation ink to dry off on the printing fabric.
Resolution Rate
The resolution rate of paper refers to how many pixels are displayed per inch of the image. It is often measured in Pixels Per Inch (PPI).
A-SUB sublimation paper has a mean PPI of between 400 to 600. This indicates that you can obtain clear, visible, and vividly colored designs when using A-SUB products.
HAYES sublimation paper has an average of fewer than 300 PPI. Therefore, compared to the A-SUB paper, you get less vivid colors on the print output.
Anti-Penetration Effec
FOLE sublimation paper allows ink to spread on paper at times, leading to off-color design prints.
When using DyeMaster sublimation paper, ink may run off on fabric and cause streaks. This phenomenon may cause excess elements to appear on the printed surface.
A-SUB paper, however, properly holds the sublimation ink during the printing and still does not encounter bleeding through of ink under high volume printing.
Chroma
Chroma refers to how vivid a design looks on printed fabric, with the right amount of saturation from the printing paper.
Printers Jack will give a fade look if the heat application is less than or more than the specified requirement.
With heat application, A-SUB sublimation paper releases ink fully through sublimation to be absorbed by the printed fabric. This ensures full-color transfer of designs to the material.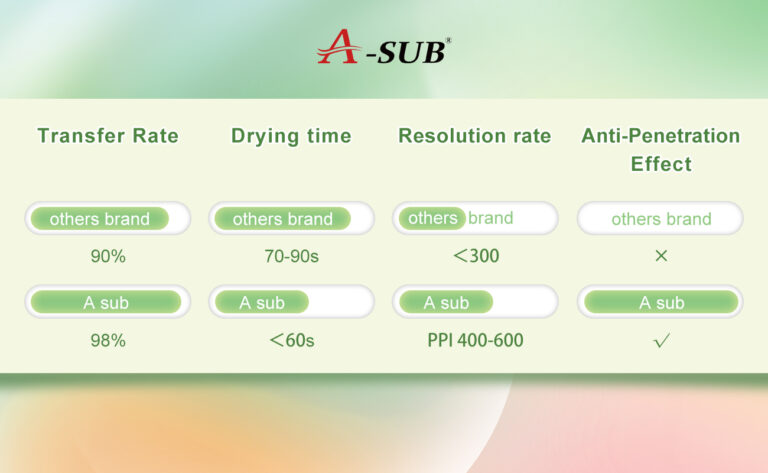 About the Factory
Now, you are aware of A-SUB's superior performance compared to products from other brands. But that's not all.
Another major factor in achieving market excellence is the well-run and fully equipped A-SUB paper production factory. As a result, it has advantages across production scale, management systems, and superior product output.
Factory Scale
The factory scale is massive, as it is well equipped with 13 coating production lines and 22 paper cutting lines.
Asides from assembly lines for factory production, we also have a massive warehouse for stocking goods before shipping and delivery. In addition, a land area of 10,000 square meters provides sizeable storage space.
The factory can produce up to 100,000 tons of printing paper every month. This capacity also includes as much as 10,000 tons of sublimation paper. A-SUB achieves all these results with an employee base of over 200 dedicated workers.
Factory Management
The success of the A-SUB factory is not just down to a factor of its substantial scale. It also benefits from top-notch quality control, research and development, and management teams.
For technological research and development, a 5-man team comprises personnel with over 10 years experience working in sublimation. In addition, they have spent half a decade working with microporous technology in paper production.
Our management system at A-SUB follows the McKinsey 7-S framework that produces organizational effectiveness. As a result, we put in place the appropriate structures, workplace systems, and strategies in production.
Combined with the above factors, we actively employ qualified staff having shared values, working styles, and the requisite technical skills.
As a result, we have been recognized with ISO9001 certification. This signifies that A-SUB consistently demonstrates the ability to produce goods that meet industry regulations and satisfy our customers.
Product Output
At A-SUB, we also guarantee a high shipment performance rate and rapid delivery of products.
That's why we readily have 300 tons of paper in stock. Also, we focus on creating unique products that validate the message and quality of our brand.
Our efficient delivery process ensures we fulfill your orders within three days. If you purchase a large volume of our products, we guarantee a delivery time of not more than 20 days.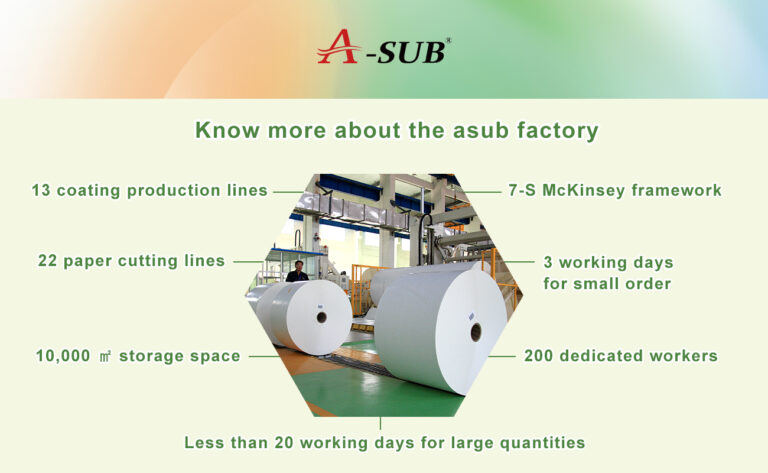 Conclusion
Using good-quality sublimation paper is crucial to creating brilliant sublimation products.
When you conduct your market survey, you'll recognize one brand that stands out; A-SUB. What makes A-SUB paper special.
A-SUB sublimation paper uses innovative microporous multi-layer technology, unlike any other product in the market. These attributes produce benefits such as fast drying times, anti-transparent printing, and good flatness.
So, for your next sublimation printing project, use the best sublimation paper for the best results.
Choose A-SUB, choose quality.