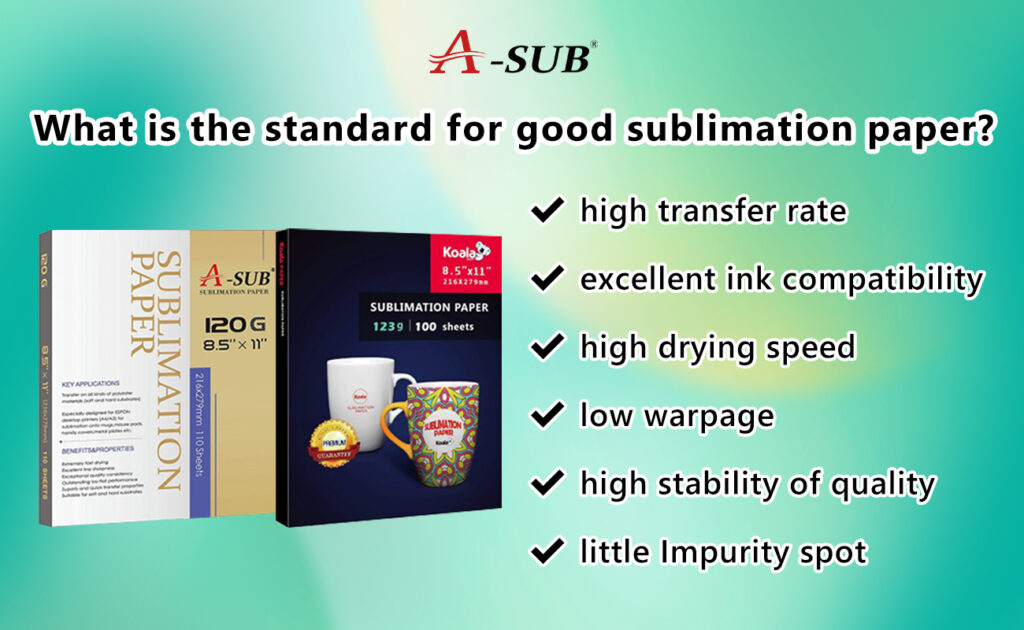 Sublimation transfer product have rich colors and are durable. When dye transfer technology is widely used, turning on choosing a good kind of sublimation transfer paper is the first thing you need to do. Which Type of sublimation paper is good?
Good sublimation transfer paper often has high transfer rate, excellent Ink compatibility, ect. Make wrong decision will cause a lot of inconvenience.
The rest of this article will explain a few topics related to this question in great detail. What kind of sublimation paper is good? How to choose a good sublimation paper? What are the consequences of using inappropriate sublimation paper?
What are the Characteristics of A Good Sublimation Paper?
Sublimation Transfer paper is applicable to sublimation transfer, on which can print images with mirror reversal through ink jet printing. Then transfer the image onto media by heating and pressuring, which makes ink on the paper become a gaseous state and combine with the media.
Let's see what are the advantages of a good sublimation paper.
High Transfer Rate Make the Colors More Vivid
Transfer rate is a basic performance of sublimation paper, which distinguishes ordinary ink jet paper. A good transfer rate can make the color of the transferred object more vivid and save ink.
What is the standard of high transfer rate? At present, transfer rate of good sublimation paper should reach 98%.
Excellent Ink Compatibility is An Essential Factor
A sublimation paper manufacturer usually require the sublimation paper to adapt to various inks as much as possible. In this case, the solubility of the sublimation paper coating to various sublimation inks need to be suitable.
Only in this way can you get the transfer product with vivid color and exquisite pattern. Otherwise, you may not get the product you are satisfied with.
High Drying Speed Can Improve Production Efficiency
The fast drying speed makes it easy for us to use undoubtedly. Because it can facilitate continuous printing and improve delivery speed. Currently, the commonly used drying speed method is the surface hygrometer method. According to the different needs of customers, Our company produces two kinds of paper, quick-drying sublimation paper and sticky sublimation paper.
Low Warpage Ensures Transfer Quality
Sublimation paper is a kind of coated paper. Inconsistent expansion or even the drying temperature all can cause one-sided warping. When the sublimation paper is warped, it will cause many inconveniences.
For example, If a large number of printed sheets are stacked, it will be inconvenient to organized due to warping. Under dye transfer ironing plate, the warping of sublimation paper may cause the transfer to be dislocated. In order to solve this problem, our company's transfer paper coating uses nanomaterials.
High Stability of Quality is An Important Indicator of Usability
The stability of the quality is an important indicator of usability. The surface quality of the sublimation paper will influence the parameter range of transfer machine. In other words, the fluctuation or constant change of surface quality will force you to make adjustments. This requires the factory to ensure the precision of the machine, the proficiency of the employees and the advanced technology.
Good Sublimation Paper Has Little Impurity Spots On Paper Surface
Impurity spots on the surface of sublimation paper seriously damage large-area solid-color printing. These spots may arise from the base paper, or from the coating or production process.
Thus, You should choose sublimation with little impurity spots.
How to Choose the Most Appropriate Sublimation Transfer Paper?
From a technical standpoint, there are two types of sublimation paper on the market. As I mentioned, good sublimation papers have similar features. Let's analyze the difference between these two sublimation papers and how to make a choice.
Swellable Sublimation Paper is the First Generation
This sublimation paper is made by coating it with organic polymers, like gelatin. This coating swells up to surround the sublimation ink once the ink strikes the paper.
In layman's terms, when the swellable sublimation paper is working, the ink is attached to its surface. So it's not hard to figure out that it has excellent image finish and print durability.
However, swellable paper is more sensitive to contact with water and highly humid environments. As a result, the produced prints also require longer drying times.
This posed a problem as ink jet printers tended to print faster than the sublimation ink could dry. Consequently, another form of paper has gained prominence.
The Performance of Microporous Sublimation Paper is Better
Microporous coatings are alumina or silica in tiny, inorganic particles that create voids or cavities in the coating. The sublimation ink is then absorbed into these cavities by capillary action.
As a result, microporous papers have high resistance to moisture and humid conditions. That is to say, microporous papers help produce rapidly drying prints. It solves the problem of swellable papers.
Of course, in terms of transfer rate, warpage and other properties, microporous paper is also better.
It is worth mentioned that our company has developed multi-layer microporous sublimation paper. It is better than microporous sublimation paper in various performances.
If you have a large production volume and sufficient funds, it is recommended that you choose microporous paper. However, the choice should also be based on reality and choose the most suitable one.
What are the consequences of using inappropriate transfer paper?
Inferior Transfer Paper May Encourage Low Color Clarity
If you choose inferior paper with low transfer rate and ink compatibility, you may meet many problems, such as unclear color.
Unsuitable Sublimation Paper May Lead to Transfer Failure
If you need to transfer a large volume of products. Don't choose sublimation paper with slow drying speed. Because it may lead to slower production speed and affect delivery. More seriously, Choose sublimation paper with high warpage may directly lead to transfer failure. And ultimately affect the benefits.
Conclusion
Good Sublimation paper has some similar features, such as high transfer rate, durability of pattern, ect. However, when you choose sublimation paper, you should choose the most cost-effective one according to your own needs.